Life and working pace speeds up in the modern metropolis like Shanghai . Everybody in the pursuit of high quality and high efficiency often neglected his own health at the same time, The urban white-collars generally are in the sub-health state. Along with the development of society, the office buildings accidents also frequently occur. Everyone can play the role of first-aider when facing sudden emergencies, and able to make preliminary judgment and treatment for the patients' state of illness at first time .And expertly mastering first-aid knowledge and skills becoming crucial and urgent at this moment. Therefore it's very necessary to carry out first-aid rescue skills training at densely populated office buildings .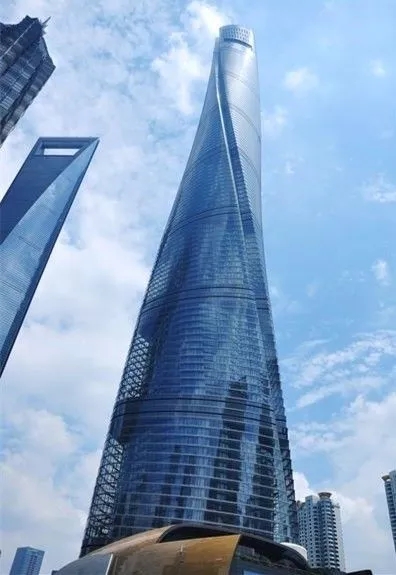 Lujiazui is a financial center with powerful international influence, as well as a gathering place of high-rise office buildings that centralized high pressure industries such as finance . First-aid ability of related institutions and personnel needs to improve continually accordingly. Popularize knowledge of first aid, establish a normalized and benchmarking image of office first aid rescue. Truly reach the standard of international metropolis.
How to guarantee to save lives timely in an emergency? This requires the participation and joint promotion of all parties.
To improve the overall office building emergency response ability, ensure that first aid can be offered at first time in emergency situations. Shanghai Tower not only configured five sets of AED equipments, but even more invited professionals from Shanghai Citizen Care Emergency Rescue Promotion Center (AIMSN) to make training and guidance, to master the AED and cardiopulmonary resuscitation (CPR)and etc emergency treatment technology .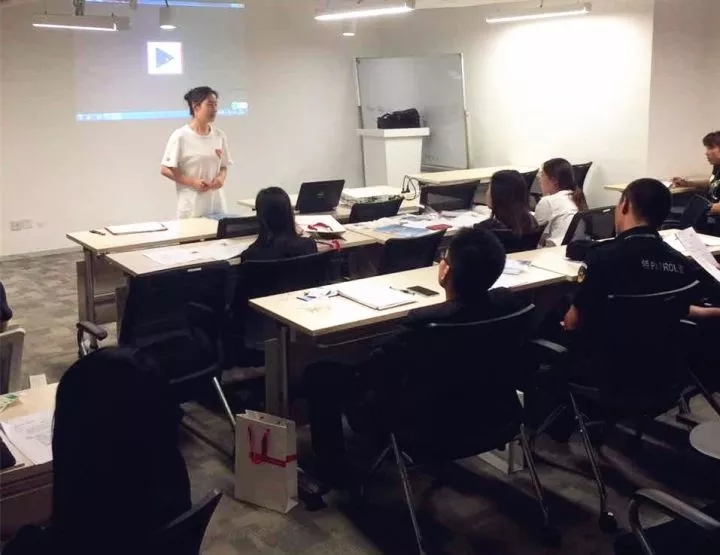 AIMSN Lecturer Teaching and Training
Shanghai Tower property management company actively response to the summon from national PAD program(setting up AED in public places ),safeguard countless precious life for office clerks, business people, tourists, improve the service quality of the Shanghai Tower comprehensively, advocate advanced service awareness, public spirit, greatly improving safety index of Shanghai Tower .With the increasing public first-aid awareness , AED will become a necessary and essential Life Saver" in every high-rise buildings.
More than 200 employees of Shanghai Tower property management company , from the top management to grass-roots key posts, participated in this training, which is about 80 to 90 percentage of its total staff. The training, which begins in August this year and is divided into about 12 courses, is coming to an end. Trainees performed actively and the training received a good response.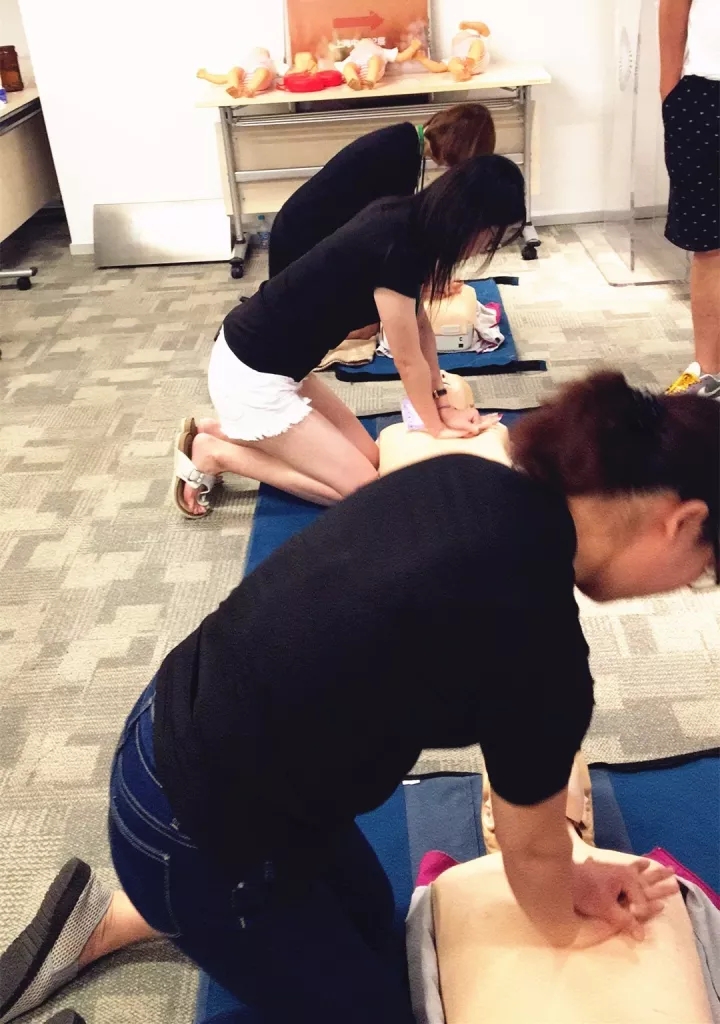 Shanghai Tower property management company Trainees Conduct cardiopulmonary resuscitation practice by using simulator
The training involves cardiopulmonary resuscitation, AED operation and use, daily emergency treatment, airway foreign-body obstruction, trauma care etc internal medical and surgical first-aid knowledge and operation practice. AIMSN professional mentors team conducts cardiopulmonary resuscitation (CPR) + electric defibrillation(AED) etc first-aid live demonstration and teaching , through the careful guidance and targeted practical operation and practice, each trainees participated successfully mastered the cardiopulmonary resuscitation skills and the usage of AED.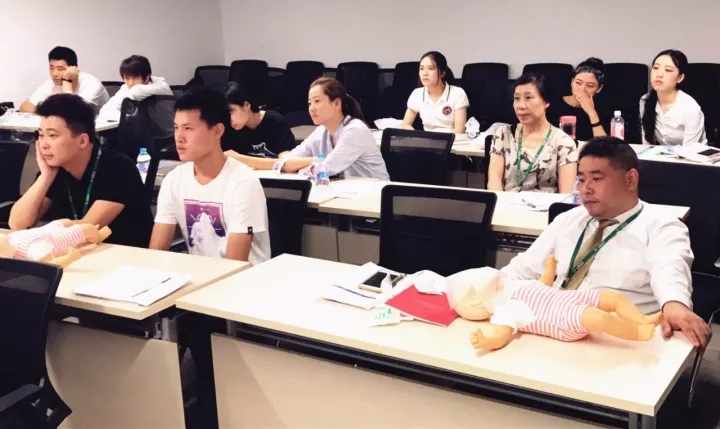 Trainee concentrated to the training
During cardiopulmonary resuscitation (CPR) training, the students listen carefully, practice repeatedly, and everyone is able to correctly master the operation process and recovery essentials of cardiopulmonary resuscitation (CPR) after mentors' guidance correction time after time. The ability of emergency response
when property management company encountering emergencies has been enhanced through this training activities. Thus playing the role of First Aider before the arrival of professionals , setting up an effective defense for all personnel life safety in and out of the building.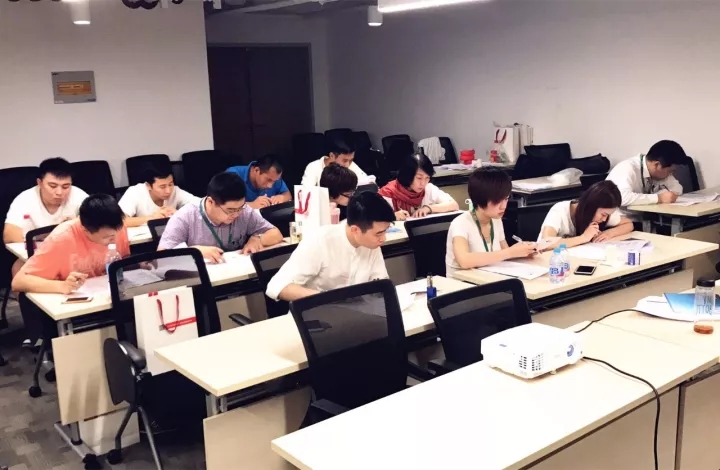 Shanghai Tower Property Management Company Trainees First-aid Knowledge Written Test
Shanghai Tower is 5A super grade office building and project area is 433,954 square meters, the building is one hundred and eighteen floors, the total height is six hundred and thirty-two meters. As a comprehensive super high-rise building, mainly for office business purpose, others include exhibition, hotel, sightseeing, entertainment, commercial business and so on.
The building is divided into five functional areas, including the mass commercial entertainment area, the office area, the corporate hall area, the boutique hotel area and the top functional experience space. Among them, the "Top of the World" is the functional experience zone, with the functions of the city display viewing platform, entertainment, VIP mini-bar, catering and sightseeing meeting etc functions. In addition, there is a multi-functional activity center accommodating 1,200 people in its podium structure building.
Shanghai Tower AED distribution: B2 public street. 2, 22, 37, 52 level concierge service area.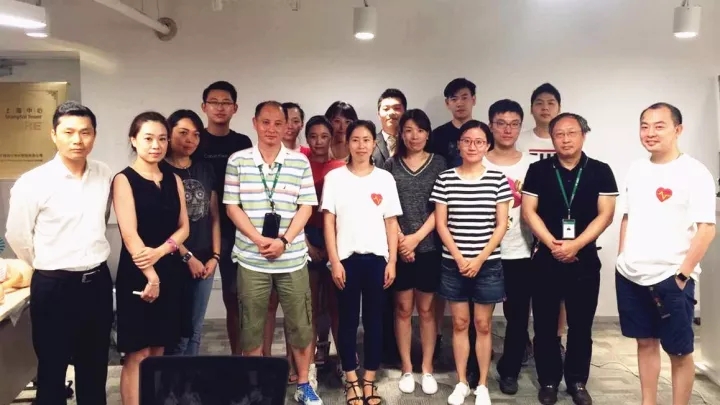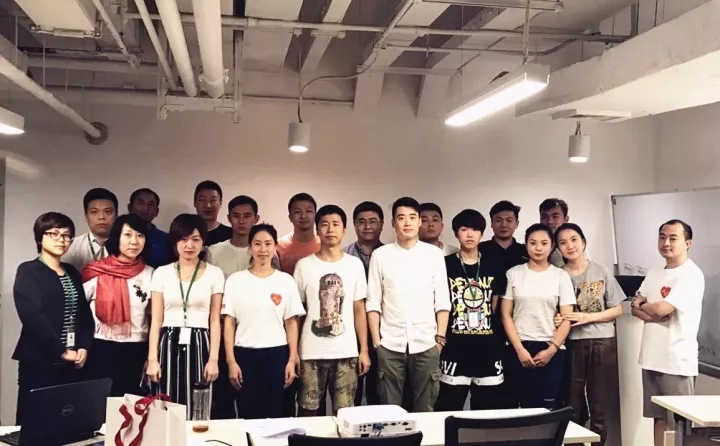 There is a huge gap between the first aid in our country and the world standard. As an international financial center, Shanghai is at the forefront of the world in terms of finance, science and technology, but the development of public first aid lad behind .We need to work together to advance this project through multi-dimensional and multi -parties efforts .