Heart disease is the Second killer in Hong Kong, with 6,630 people dying of heart disease last year, namely an average of 18 deaths a day, according to Hong Kong Wenhui News Report. Use cardiac defibrillator to rescue patients ,equals to save a life, but every one-minute rescue delaying, the survival rate is 10% declined, so cardiac defibrillators setting up in public places is particularly important. MTR carrying about 4 million passengers per day announced that from next month, all the station will install automated external defibrillators

At the end of October, MTR was testing the automated external defibrillator in ten crowded stations, including the Causeway bay station that MTR station master, Weimin Qu serves for, and it became Very Useful last October."There was a sudden call in the station room at the time," said Weimin Qu. "Aseventy-year-old man fainted at the exit of Times Square."As the situation became critical, Weimin Qu rushed to the scene with a newly configured automated external defibrillator.

After arrival, Weimin Qu started the defibrillator, and attached a sensor and an oxygen mask to the old man, and the defibrillator soon sent a signal that electric shock was needed. Therefore Weimin Qu pressed a button of electric shock , and then output 200 Voltstrong current, the old man recover vital signs, oxygen mask also appeared with vapour producing from breathing. Weimin Qu became mad of joy, ambulances have also been called to be present, and took the old man to hospital.

After one year test, MTR traffic Supervisor Qingjia Li announced that from the first day of next month , all eighty-four MTR stations and intercity passenger transportation carriages will set automated external defibrillators, a total of 237 units, 750 MTR clerks of supervisory level or above have accepted one -week training on CPR, and one-day defibrillator operation training.

MTR said it had used a defibrillator to assist passengers three times during the trial period last year, two of which were used in Causeway bay and Lo wu Station to successfully restore the passenger's heartbeat. The other time, after the defibrillator was switched on, the instrument analyzed the injured without electric shock necessity. The staff then transferred the injured to the ambulance attendants who were present.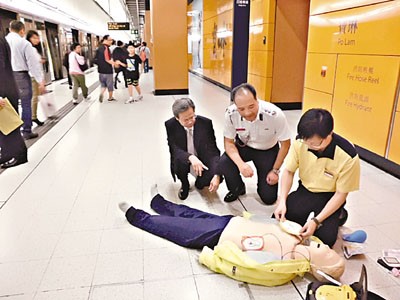 MTR station master (Right) demonstrate using an automatic heart defibrillator (Image source: Hong Kong Wenhui News Report)